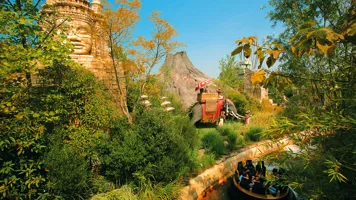 It's time for adventure
Climb aboard the large rubber dinghy and, following the current of the rushing rapids, let yourself be carried away on an expedition!
Discover the mystery of ancient civilisations and temples and enter the cave of a majestic erupting volcano under the watchful eyes of buddhas and jungle animals.
A crescendo of surprises for adventurers of all ages!
This ride is not available during special opening "Magic Winter"
A thrilling adventure on a winding route through the mysterious jungle