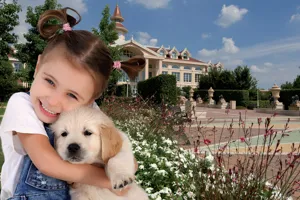 Your dog is welcome in our Hotels
Gardaland Hotel (only Classic Standard rooms), Gardaland Adventure Hotel and Gardaland Magic Hotel are all officially dog-friendly, accepting your furry best friends (weighing up to a maximum of 30 kilograms).
Your reservation may include one dog per room. During check-in the dog will be registered and, to offer the best possible start to his/her adventure at Gardaland, will receive a welcome cookie.
On your arrival, you will find a dog kit in the room, including bed and food/water bowl on loan for use and a sign "Dog in room" to be used to report the presence of the animal in the room.
Your four-legged friend will also be able to play and run in an equipped green area (dog gym), specially created for his/her well-being and fun. At the end of the stay, your dog will receive a certificate of good conduct, proof of his/her exemplary conduct while staying in our hotels.
Additional services and advice for your stay with your dog at Gardaland Resort
Dog Menu: your dog can enter our restaurants (Wonder Restaurant, Tutankhamon Restaurant and Matka Family Gourmet Restaurant) and enjoy a balanced à la carte menu for dogs specially created by our Chef.
Wonder Bar: both inside and outside the Wonder Bar there are dedicated areas where you can enjoy an aperitif together with your furry friend.
Happy Birthday: your dog deserves to celebrate his/her birthday too, with a cake-biscuit designed especially for the occasion! The service must be booked at the Wonder Dog Bar, or by contacting the reception of Gardaland Hotel.
Blue Lagoon: even our water park is dog-friendly! You and your dog can visit the reserved areas to enjoy some relaxation at the Blue Lagoon. Please note! Dogs may not enter the pools reserved for adults and children.
Additional services: dog-sitting, grooming and veterinary services are available on request and at a charge. For any further information, please contact Gardaland Hotel Reception.
We kindly inform you that a dog sitting service is available upon request (LIMITED availability): for reservations please contact "Cura è Vita" +393664493190 - outsourcing supplier.
Please remember that the person who makes the booking is responsible for any damage caused by their dog, as well as any claims made by third parties due to improper conduct of said dog.
Service at Gardaland Hotel is available ONLY in the Classic standard rooms. All other room types are excluded.
Are you afraid of dogs or allergic to them?
The well-being and serenity of everyone is essential, so dogs must always be kept on a leash when outside their room.
After check-out, the room is thoroughly cleaned and disinfected. Finally, each room is subject to a final sterilisation with the Ozosì system.