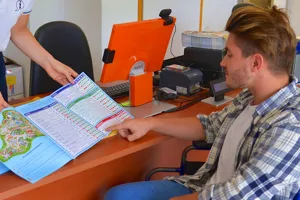 Your safety comes first
Plan your day at the Park! Check out the specific sections below and download the guides dedicated to guests with disabilities, which will be invaluable in helping you enjoy your visit to Gardaland to the full.
If your disability is not visible, please let us know: however well-prepared, our staff cannot know your health status if you do not inform them and therefore cannot guarantee maximum safety for you and your family when using the rides/visiting attractions.
Access modes may vary, depending on the type of ride. Our staff must always assess whether the configuration of seats and restraint devices, or evacuation methods in case of emergency, allow you to use the ride in maximum safety: in the event that the conditions necessary for your health and safety are not guaranteed, access may be denied.
Terms and conditions for accessibility of rides may be changed without prior warning (e.g. in the event of bad weather and/or for technical reasons).

PLEASE NOTE: For safety reasons, visitors with reduced mobility, visually impaired or blind, or with cognitive impairment, must be accompanied by an adult.
People with disabilities who are unable to use the rides on their own enter free of charge and we offer a reduced-price ticket for their companion.
People with disabilities who are able to access the rides independently benefit from the reduced-price ticket themselves.
PLEASE NOTE: in order to take advantage of the free and/or reduced price ticket, it is necessary to submit appropriate documentation certifying your health status to the WELCOME DESK (the office is located to the right of the main entrance of the Park).
For guests with disabilities and all people with special needs, access to the Park is more convenient, simple and fast.
After parking and crossing the underpass, follow the directions to the WELCOME DESK (the office is located to the right of the Park's main entrance). Here you can purchase your admission ticket and receive the Park Guide and all useful information.
Don't be afraid to ask! Our staff will be happy to answer all your questions.
The Gardaland car park has spaces reserved for guests with disabilities.
At the entrance to the car park, display your "European Parking Pass" (blue card) together with an identity document of the person with disabilities, who must be in the vehicle: you will be able to enter the car park, free of charge, and receive a special token for access to the reserved area.
Experience the Park at its best, with the Easy Rider guide!
Easy Rider is a service aimed at groups that include people with disabilities.
The Easy Rider staff will always be by your side: they will accompany you to the Park, facilitating your choice of attractions and helping you to better organise your day.