Accessibility
Hotel, SEA LIFE Aquarium and LEGOLAND® Water Park
Discover our fantastic hotels, the themed aquarium and water park.
Our Hotels
In our hotels, we want all our guests to enjoy a truly memorable experience!
Contact our hotel Customer Care service before your arrival to check all your requirements and, during your stay, do not hesitate to ask our reception staff for any help you may need.
Our hotels allow all guests easy access to shared areas (reception and restaurants) without architectural barriers. All hotel wings have lifts and specially-equipped rooms are located on the ground floor.
Please note! Any useful information you can share with us is essential for us to be able to offer you the best experience possible and offer assistance whenever necessary.
Guide dogs are welcome (free of charge) in our hotel as long as their presence is approved and notified in advance (at time of booking) by contacting our hotel Customer Care team, in order to allow us to equip the room effectively. The reception staff will be available throughout your stay for any other requirements in this regard.
Available in a very limited number, they can be requested at reception in case of need/emergency (subject to availability). If you generally use a wheelchair, we recommend that you bring your own for use at Gardaland Resort, while still notifying our Customer Care team of your needs. Inform us also if you use an electric scooter - we will take steps to consider this use during your stay.
If you follow a specific diet (for religious, ethical or cultural reasons), or suffer from allergies and/or intolerances, please contact our hotel Customer Care prior to your arrival in order to find the best catering solution for you.
While every precaution is taken to prevent cross-contamination, our kitchens handle ingredients which contain allergens including nuts and gluten. Our staff can provide information only about 14 common allergens.
Please note! Please note that made-to-order food is not provided for coeliacs: in accordance with ISO 22000 certification, as well as for safety reasons, it is only possible to offer sealed dishes from certified external suppliers that are heated up in a dedicated microwave on demand.
Please note that Kosher cuisine or Halal-certified products are not available in our hotels.
Please notify us in advance, at the time of booking, of any other allergies (pollen, dust, etc.) so that we may take special care to offer you the best solution for your hotel stay.
In our hotel restaurants (Wonder Restaurant and Tutankhamon Restaurant) you can find a special self-service point for baby food, equipped with a hotplate, microwave and crockery, where you can prepare your child's meal quickly and safely at any time. For further information, please ask the reception staff.
The outdoor carpark has some places reserved for cars displaying the European (blue) badge, specifically signalled on site. You can ask the reception staff for directions to the parking place nearest your room.
The stop for the free shuttle bus to Gardaland Park is located at the entrance to the Gardaland Hotel. The area, which is completely accessible, is located in a protected and shaded area of our garden. There is a vending machine for chilled drinks. The shuttle bus is equipped with a hydraulic tailgate to facilitate access to the vehicle. In this regard, we ask you to inform reception of need in advance, in order to make getting on and off the bus as easy as possible with respect to the daily schedule.
The main pool is equipped with a lift. You can ask the pool lifeguards for assistance with safely using the lift.
All toilets are equipped with grab bars, emergency pull cords and accessories (soap) positioned at different heights. There are also changing facilities for children, complete with changing mats.
At the Tutankhamon Restaurant (Adventure Hotel) and Quercia Magica Coffee Bar (Magic Hotel), there are bathrooms with washbasins and toilets accessible also to children.
All our hotels have lower-height desks for self check-in, especially suitable for guests in wheelchairs.
All hotels have equipped rooms of different typologies on the ground floor, uncarpeted, as listed:
11 classic standard rooms at Gardaland Hotel (1 king size bed + sofa bed or 2 queen size beds)
6 Wild West Adventure rooms at Gardaland Adventure Hotel (1 king size bed + 2 single beds + sofa bed);
7 Magic Ice Castle rooms at Gardaland Magic Hotel (1 king size bed + 2 single beds).
The rooms allow movement of a wheelchair and come with a fully-equipped bathroom, with grab bars, emergency pull cords, accessories positioned at different heights, and an accessible shower box.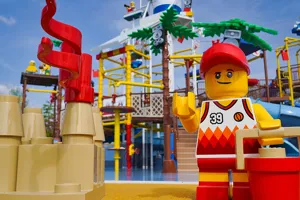 LEGOLAND® Water Park
Ti aspettiamo al nostro ufficio Welcome Desk, situato alla destra dell'ingresso principale del Parco per fornirti tutte le informazioni utili alla tua giornata all'interno di Gardaland Resort.
LEGOLAND® Water Park is located inside Gardaland theme park, and admission is granted only with the purchase of a combo ticket for Gardaland Park and LEGOLAND® Water Park. Any park ticket can be upgraded to include entry into LEGOLAND® Water Park: simply pay a supplementary fee at the ticket offices or inside Gardaland Park.
LEGOLAND® Water Park is a fully-themed water park designed for families with children. Children under the age of 14 may not visit LEGOLAND® Water Park unless accompanied by an adult. To guarantee the safety and fun of children, people over the age of 18 may not visit Legoland Waterpark unless accompanying a child (or children) under the age of 14.
Inside the new LEGOLAND® Water Park, all guests with disabilities can count on enjoyable days of safe fun. To ensure maximum safety for you and your family when using the attractions, remember to follow the instructions of the attendants and lifeguards and follow the rules posted outside each facility.
For more information, do not hesitate to contact our Contact Centre; you can find our contact details here.
We await you at our Welcome Desk office, located to the right of the main entrance of the Park, to provide you with all the information necessary for your day in Gardaland Resort.
For prices and admission procedures, please contact our Contact Centre, or visit our Welcome Desk office on the day of your visit.
Guide dogs may not enter the Water Park. In the event of support needed for accessing the pool areas, we recommend the assistance of a chaperon.
Use the handy Cashless wristband to rent a locker or as a form of cashless payment in Water Park stores. The wristbands are handed out just after entering the Water Park.
Dive, slide and build your own fun at LEGOLAND® Water Park, the Water Park at Gardaland Resort. Discover our attractions and check the access details here
Gardaland SEA LIFE Aquarium
A day at Gardaland Resort is not complete without a visit to Gardaland SEA LIFE Aquarium, the marvellous interactive aquarium.
Through 40 fully-themed tanks, you will be transported on an exciting voyage of discovery from the fresh waters of nearby Lake Garda to the deepest seas and oceans.
The Aquarium, entirely themed and accessible for visitors with disabilities, is located over two floors which can be reached using the two inside lifts. At the end of the itinerary, there is a shop where you can buy gadgets or gifts and a snack bar with wheelchair accessible toilets (in addition to those near the entrance).