Accessibility
Gardaland Park
Find out how to navigate the Park and access its rides/attractions.
Attractions
Our rides and attractions are all very different and each one has its own specific admission criteria to guarantee the health and safety of our guests.
Access modes may vary, depending on the type of ride.
Our staff must always assess whether the configuration of seats and restraint devices, or evacuation methods in case of emergency, allow you to use the ride in maximum safety: in the event that the conditions necessary for your health and safety are not guaranteed, access may be denied.
PLEASE NOTE: For safety reasons, visitors with reduced mobility, visually impaired or blind, or with cognitive impairment, must be accompanied by an adult.
Terms and conditions for accessibility of rides may be changed without prior warning (e.g. in the event of bad weather and/or for technical reasons).
Refer below to our guides on accessibility of attractions:
Park Services
Toilet facilities
Various toilet facilities are accessible in our Resort (Park, SEA LIFE, Hotels and LEGOLAND® Water Park). These facilities guarantee access and use of these services for visitors in wheelchairs or with special needs. In the event of specific requests, please do not hesitate to contact us or visit one of our Information Offices at the Park.
Information Offices
There are a number of Information Offices at Gardaland, always ready to provide support and useful information such as: information on accessibility of attractions, wheelchair rental, lost and found items.
For the Park and LEGOLAND® Water Park, you can go to the "Welcome" Information Office (tickets square), the Welcome Desk (the office is on the right of the Park's main gates) or the "West" Information Office (West Village).
For our hotels, you can visit the reception desks, and at Gardaland SEA LIFE Aquarium, the ticket offices at the entrance.
First Aid
Inside the Park, there is a first aid area between the Mammut and Jungle Rapids rides. This area also has a vending machine with basic chemist items (sanitary products, sun cream, etc.)
Rentals and storage
Wheelchairs
It is possible to rent a wheelchair (subject to availability) directly from the Welcome Desk office; there is no charge for wheelchair use, nor is there a booking service. Due to limited availability, we recommend that in the event of necessity, you bring your own wheelchair for use in the Park. We remind you that in order to use this service you will be asked to present your ID.
Pushchairs
At Gardaland Park, parents with children under 110 cm tall (to be checked on-site) can use a stroller rental service. Strollers can be collected from the "Welcome" Information Office of the Ticket Office Area or "West" Information Office of the West Village.
The service is subject to a fee of €5 per day. We remind you that in order to use this service you will be asked to present your ID.
All strollers are branded Inglesina, official partner of Gardaland Resort.
Baggage storage
Travel light around the Park! Leave your luggage at the "Welcome" Information Office at the Ticket Office Area or at the "West" Information Office in the West Village. One word of warning: luggage must not contain food or drink. The cost of the service is € 5 per day (price per deposit).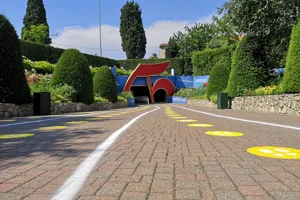 Fast-track and/or easy access to rides/attractions
The Park offers a fast-track service for guests with particular physical, sensorial or cognitive conditions, and easy access passes. The possibility of using these services is available exclusively from the Welcome Desk, and is subject to presentation of the appropriate disability certification.
PLEASE NOTE! These services do not guarantee the holder to IMMEDIATE access to the attractions/rides allowed by safety regulations, but simply a fast-track access compared with the normal queues.
Information on fast-track access