Happy Circus Themed Room
Gardaland circus has arrived: let the fun begin!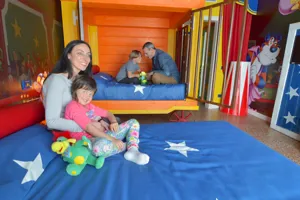 Gardaland circus has arrived
Gardaland circus opens its doors and you will find yourself with Prezzemolo and Aurora under a colourful big top... perhaps in the role of courageous tamers facing a majestic lion, or as skilled trapeze artists ready to perform a daring and breathtaking flight.
Family rooms of this type offer 2 double beds and may host a maximum number of 2 adults and 2 children. It is not possible to add a cot.
Admission tickets to Gardaland Park and Gardaland SEA LIFE Aquarium included in the package, or may be purchased online.
Rooms are available from 3 p.m. and must be vacated by 11 a.m. on the day of departure.
Smoking is strictly prohibited in all rooms. It is not possible to stay overnight with animals.
Facilities included:
Entrance to Blue Lagoon water park
Shuttle service to Gardaland Park and Gardaland SEA LIFE Aquarium
Free (unattended) outdoor parking
Entertainment for children: Meet & Greet with our characters
Free baggage storage on request at reception
Optional facilities:
Breakfast
Half-board
Indoor parking
Plug-in Parking: parking with charging socket for electric cars (external provider Enel X - service subject to fee)
Other optional services can be viewed during the booking process