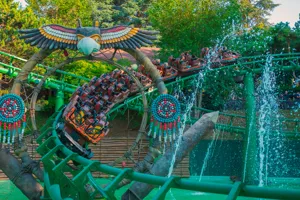 An extraordinary journey
Climb aboard Gardaland's legendary roller coaster and ride through the mysterious Dreamcatcher. You'll find yourself on the back of a great eagle, on a spectacular flight into the mysterious spirit world of the American Indians.
Experience the adrenaline rush of a double death ride: venture on this extraordinary journey and return safely to reality, leaving the evil spirits behind.
This ride is not available during special opening "Magic Winter"
All the adrenaline of Gardaland's first roller coaster