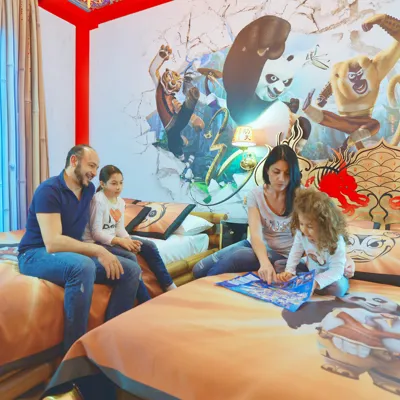 A night as a Dragon Warrior
Follow in the footsteps of the legendary heroes of "Kung Fu Panda" all the way to Gardaland Hotel and get ready for truly exciting challenges even in your dreams!
Family rooms of this type offer 2 double beds and may host a maximum number of 2 adults and 2 children. It is not possible to add a cot.
Admission tickets to Gardaland Park and Gardaland SEA LIFE Aquarium included in the package, or may be purchased online.
Rooms are available from 3 p.m. and must be vacated by 11 a.m. on the day of departure.
Smoking is strictly prohibited in all rooms. It is not possible to stay overnight with animals.
Facilities included:
Entrance to Blue Lagoon water park (from 22 May to 12 September 2021)
Shuttle service to Gardaland Park and Gardaland SEA LIFE Aquarium
Free (unattended) outdoor parking
Entertainment for children: Meet & Greet with our characters
Free luggage storage is available upon request at the reception (in accordance with the "Safe Stay" regulations)
Optional facilities:
Breakfast
Half-board
Indoor parking
Other optional services can be viewed during the booking process