Wild West Adventure
Ride free in the Wild West, but don't get trapped in the sheriff's jail!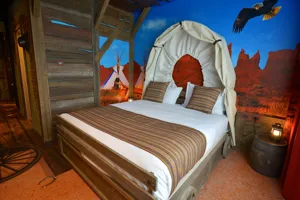 In the Wild West, in search of freedom
Get ready for breathtaking adventures riding through the Wild West! You'll be sleeping under the starry sky in a really comfortable wagon, but if you're caught by the ever-vigilant sheriff, it's no picnic spending the night behind bars! May luck be with you, as you arm yourself with a gun, belt, spurs and hat, and climb into the saddle!
The room holds a double bed and two single beds in two separate areas. There is also an additional sofa bed available for children up to the age of 7. Family rooms of this type host a maximum number of 4 people and offer a garden view. It is not possible to add a cot. Bathroom with shower - 2 LCD TVs - WI-FI
Admission tickets to Gardaland Park and Gardaland SEA LIFE Aquarium included in the package, or may be purchased online.
Rooms are available from 3 p.m. and must be vacated by 11 a.m. on the day of departure.
Smoking is strictly prohibited in all rooms.
Facilities included:
Entrance to Blue Lagoon water park
Shuttle service to Gardaland Park and Gardaland SEA LIFE Aquarium
Free (unattended) outdoor parking
Entertainment for children: Meet & Greet with our characters
Free baggage storage on request at reception
Optional facilities:
Breakfast
Half-board
Indoor parking
Plug-in Parking: parking with charging socket for electric cars (external provider Enel X - service subject to fee)
Other optional services can be viewed during the booking process