Arabian Adventure Superior
Make a wish by looking at the stars or rubbing the wishing lamp!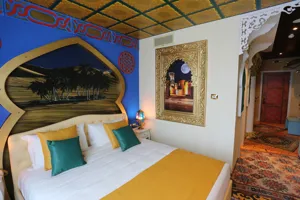 Rub the wishing lamp and meet your genie
Have you ever seen a carpet fly, or met a genie in a lamp? Spend the night in the majestic Arabian palace and prepare for an adventure among sand dunes, refreshing oases and flying carpets. If finding the way back becomes a problem, rub the wishing lamp and you'll soon get help!
The room has a double bed, two single beds in two separate areas and a large terrace with outdoor furniture. There is also an additional sofa bed available for children up to the age of 7. Family rooms of this type host a maximum number of 4 people and offer a garden view. It is not possible to add a cot. Bathroom with shower - 2 LCD TVs - WI-FI
Admission tickets to Gardaland Park and Gardaland SEA LIFE Aquarium included in the package, or may be purchased online.
Rooms are available from 3 p.m. and must be vacated by 11 a.m. on the day of departure.
Smoking is strictly prohibited in all rooms.
Facilities included:
Entrance to Blue Lagoon water park
Shuttle service to Gardaland Park and Gardaland SEA LIFE Aquarium
Free (unattended) outdoor parking
Entertainment for children: Meet & Greet with our characters
Free baggage storage on request at reception
Optional facilities:
Breakfast
Half-board
Indoor parking
Plug-in Parking: parking with charging socket for electric cars (external provider Enel X - service subject to fee)
Other optional services can be viewed during the booking process