NEWS FROM THE CONTRUCTION SITE
In this page you will find many news about the construction of JUMANJI - THE ADVENTURE, fun facts and curiosities from the construction site!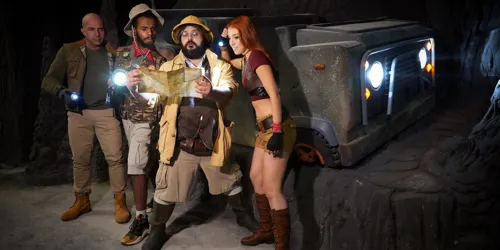 THE MULTI-MOTION VEHICLE
Jan, 18th 2022 - The unique multi-motion vehicles of the world's first JUMANJI® themed ride have arrived at Gardaland. Each multi-motion vehicle, besides driving along the track, will encounter hazards, obstacles, special audio and video effects along the way by spinning around and rolling, simulating the movements of a real off-road vehicle.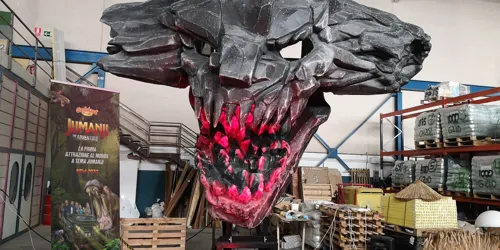 THE ANIMATRONIC OF "THE STONE GIANT"
Dec, 12th 2021 - The animatronic of "The Stone Giant" is set to arrive - the most astonishing of the various animatronics positioned along the ride. The Giant will attempt everything possible to block the Guests and will be their main enemy: his enormous head will appear from a cave, while further his gigantic hand will try to block the adventurers.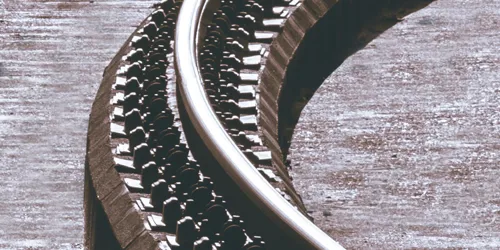 TRACKS HAVE ARRIVED!
Nov, 11th 2021 - The tracks have arrived and they are ready to be set down along a 287 meters route, offering a vital means of transport for carrying nearly 1'000 people per hour on 12 available railcarriages. The railroad will link the 12 attraction sites, on a route that switches between bends and straight stretches for an amazing adventure!
THE SCENOGRAPHIC ROCKS
Nov, 4th 2021 - In the world of Jumanji the characters are catapulted into many settings, each one reminding of Middle Eastern, equatorial or continental landscapes. In order to recreate these fantastic settings "scenographic rocks" are built at Gardaland, these rocks are made of sculpted cement and are finalized at the Jumanji site thanks to the design and work of a premium company, at the forefront in the construction of the best sets.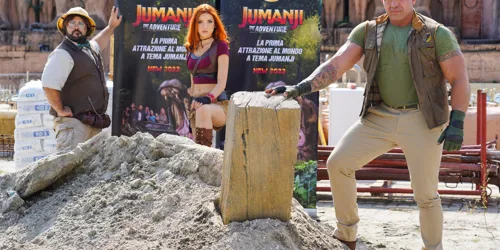 FIRST STONE LAID!
Oct, 27th 2021 - The first stone was laid at the building site thanks to the entertaining help of some cosplayers in the guise of the characters of the Jumanji films. After arriving at Gardaland Park on board the distinctive jeep, the three officially started the works. It will be a key investment of over 20 million euros for the realization of the unique attraction in the world.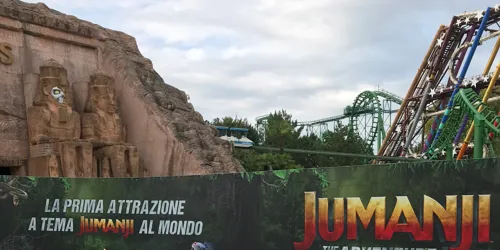 THE PROJECT OF THE RIDE
Oct, 25th 2021 - Taking in $2.1 billion at the global box office the Jumanji film franchise is popular with both family and teenage audiences worldwide. The new Jumanji – the Adventure attraction will be a dark ride full of innovative elements. Just like in the movie, you will be transported beyond your imagination, deep into the jungle! Ready to discover this worldwide unique attraction for adventurers of all ages?