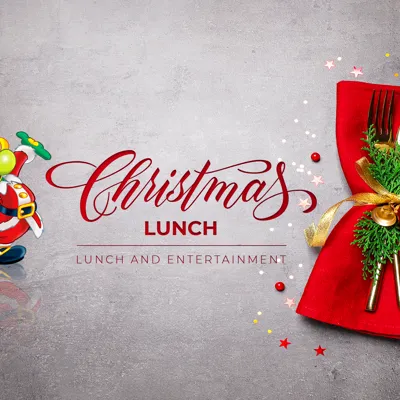 Gardaland Christmas Lunch
Want to enjoy an unforgettable Christmas together with your family? An enchanting day full of magic awaits you at the Wonder Restaurant in the Gardaland Hotel, to make your Christmas celebrations truly unique.
Thousands of sparkling lights, fabulous decorations, a delicious Christmas lunch and a unique show at Gardaland Hotel will liven up Christmas Day.
The lunch, packed with traditional dishes with authentic flavours and tastes, offers different menus according to food requirements. For young guests (from 3 to 12 years of age) there is a special menu with delicious dishes, while for those who prefer a vegetarian menu, our Chef offers tempting and original dishes, and of course there's also a tasty gluten-free menu.
And to enjoy a truly magical and special Christmas, there will be special entertainment at the table to make lunch with your family truly unique. In addition, an exclusive show at the Gardaland Hotel will allow you to close your Christmas visit to Gardaland in style.
Browse the menu
Discover the menus created by our Chef: adult menus and children's menus (from 3 to 12 years of age), as well as vegetarian and gluten-free menus
Download the menu [PDF]
Open also to non-guests
Gardaland Christmas Lunch, complete with entertainment, is also open to non-guests. For more information and reservations, fill out the form below, and our staff will contact you as soon as possible.
Book your stay now with the Magic Winter offer
If you want to experience all the magic of Gardaland Resort, stay in our hotels and take advantage of the Magic Winter offer: for you, there is up to 20% discount on overnight stays in hotels and tickets to Gardaland Park and Gardaland SEA LIFE Aquarium.
Fill out the form
If you are not staying at the hotel but want to participate in Gardaland Christmas Lunch, fill out the form: our staff will contact you as soon as possible.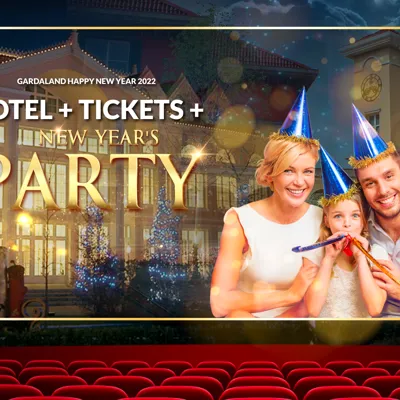 Gardaland Happy New Year
Spend a fabulous New Year's Eve in Gardaland: book the Gardaland Happy New Year Package
Strut the red carpet like a true star or venture like an explorer into extraordinary feats and emotions, always surrounded by directors and a full cast: this and much more awaits you on New Year's Eve in Gardaland. For you and your family, we have prepared a cinema-themed New Year's Eve with a truly unique programme.
Entertainment and fun at the table with games and playful moments for young and old, a themed make-up service and exclusive musical accompaniment by the Dixie Band. All with an innovative menu that pays homage to traditions. And to start the new year in a truly spectacular way, following the celebratory toast, the launch of lucky balloons awaits you.
For Gardaland Adventure Hotel guests, New Year's Eve will be celebrated at the Tutankhamon Restaurant or Magic Oak Tree, according to whichever arrangement is deemed safest by the Hotel Management in light of our corporate security protocols.
The Gardaland Happy New Year package includes: Overnight stay with breakfast and dinner in one of our 4-star Hotels; 2 entry passes per person to Gardaland Park for use on two consecutive days (this ticket also offers admission to LEGOLAND® Water Park Miniland and entrance to Miniland must take place the same day as admission to the Park); 1 entry pass per person to Gardaland SEA LIFE Aquarium; New Year's Eve dinner with cinema-themed entertainment and fun at your table.